Appointment of Keita Kanno as CTO
QunaSys Inc. (Head office: Bunkyo-ku, Tokyo; CEO: Tennin Yan) is pleased to announce that Keita Kanno has been appointed CTO (Chief Technology Officer) as of 3 April 2023.

Kanno's journey at QunaSys began as an intern while pursuing his PhD at the University of Tokyo, and he was involved in comparative verification of optimization algorithms on a quantum computer. After obtaining his PhD in Physics at the University of Tokyo, he joined QunaSys as a Quantum Information Engineer, and became a Research Manager in February 2022.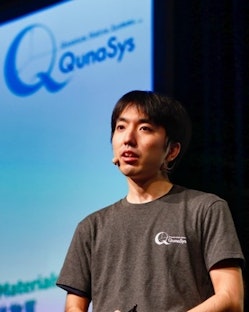 In recent years, the practical application of quantum computers has been highly anticipated, but some argue that algorithms targeting only NISQ computers[1] that currently exist are insufficient for practical use. As a result, there is a growing need for state-of-the-art high technological competence to construct technologies for practical use, such as the incorporation of partial error correction and combination with classical quantum chemical computation.

Kanno, who has conducted research at the forefront of physics, will assume the position of CTO and supervise the technology development team towards building technologies for the practical application of quantum computers.

"I am really looking forward to working as CTO at this time when industrial applications of quantum computers are becoming visible," said Kanno. "I will make the best use of our company's strong quantum human resources and make every effort towards the industrial application of quantum computers as soon as possible."

Tennin Yan, CEO of QunaSys, expressed his pleasure and support for Kanno's appointment. With Kanno leading the technology stack for the practical application of quantum computers, QunaSys aims to continue to create a world where quantum computers can play an active role in a wide range of industries.

Note:
[1] NISQ computers: Noisy Intermediate Scale Quantum computers, that are medium-sized quantum computers with tens to hundreds of qubits that cannot correct errors in computation caused by noise.

For further information on this matter, please contact:
Public Relations, QunaSys Inc.
pr@qunasys.com
Category: News
Year: 2023